Home > Building Systems > Roof Systems
BUTLERIB® II Roof System
From new construction to reroof or retrofit applications, Butler® roof systems provide the highest-performing roof systems in the industry and are trusted complements to our quality Butler® buildings.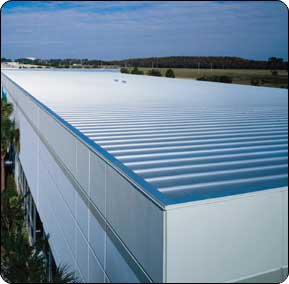 BUTLERIB® II Roof System
Butlerib® II is the thru-fastened roof system for the Widespan™ structural system.
MR-24® Roof System
The MR-24® standing seam roof system is specifically designed for consistent, weathertight performance under demanding conditions and accommodates thermal roof movement.
CMR-24® Roof System
The CMR-24® roof system offers all the benefits of the MR-24® roof system, with the addition of a layer of rigid insulation board and an interior steel liner.
VSR™ Roof System
The VSR™ roof system is a versatile standing-seam roof system designed exclusively for architectural applications.
Reroof Solutions
Butler offers reroofing options that enable you to address potentially devastating roof problems such as leaks with an affordable long-term solution.
THERMALINER™ Insulation System
The ThermaLiner™ Insulation System is a state-of-the-art insulated liner system which can be used with most Butler® roof systems.
SKY-WEB® Fall Protection and Insulation Support Systems
Sky-Web® fall protection and insulation support systems are Butler's unique, easy-to-install safety systems.